THE AWARD THAT TOOK ME PLACES!
The Duke of Edinburgh's International Award or the International Award for Young People (IAYP) has been an adventurous milestone in my journey. Split into three levels- Bronze, Silver and Gold- the award encourages the youth to accomplish a variety of personal and impersonal development goals.
It provides a balanced, non-competitive programme of voluntary activities which encourage personal discovery and growth, self-reliance, perseverance, responsibility and service to the community. It encompasses a wide scope involving a residential project, an adventurous journey, skill development, physical recreation and voluntary service.
Beginning in 2013, I received my Bronze Award after many ups and downs six years later, in 2019. Good things take time, they say! And so, soon after, I applied for Gold, which would require a consistent 18 months of effort. But these six years had taught me plenty and gave me the boost to reach the finish line on time.
For me, the best part of this endeavour has been the fact that it enabled me to travel to new destinations, meet new people, interact with various communities, and all this while ticking off requirements for the award. To me, it was a win-win situation.
I set off on my award journey realizing the fact that this isn't a competitive award. In hindsight, I've realised it gave me the opportunity to take calculated decisions and paved the path for a responsible and accountable attitude. And this was my biggest asset when it came to living and working in a completely new environment- the Residential Project.
I chose a school in Ladakh where I signed up as a volunteer with the primary goals of conducting skill development sessions for the students. Along with this, I worked under the guidance of experts, using Unstabilised Earth construction techniques to build structures with sustainability & environment friendliness as the core values.
To add on to the experience, I volunteered to help in campus responsibilities such as cleaning, cooking, gardening, taking the cattle out for a walk and helping arrange all the areas for classes and activities. The skill development included sessions of learning-based activities through which we try and inculcate values of teamwork, leadership and communication skills. Being a football player myself, I also assisted them at football training, which would help them play better as a team.
My outdoor escapades for the award also took me to another unexplored region of the country- the Pir Panjal mountain range in the Lesser Himalayas. The Shirgan Tungu trek I did there was an amalgamation of my interests and has left a memorable imprint of beauty and adventure in my life.
Prior to the commencement of the actual climb, we went on an acclimatization trek to a meadow amidst the silver firs. The trek from sea level towards higher altitudes and the slow transformation in my surroundings was mesmerising.
Starting from our base camp at Shuru (6,725 ft) we ascended through villages and forests, comprising of a variety of trees like blue pine, cedar, oak and fir, to reach the base of Shirgan- Tungu (12,300 ft). Spanning over a few days, this trek was a combination of zigzag ways, steep ridges, grazing pastures, river basins and even some snow-laden paths. The topmost campsite was blessed with an enchanting view of the Dhauladhar range, Chhota Bhangal, Kaliheyni Pass and its lofty mountain peaks. Although there was plenty to take back with us, the most valuable outcome was the realization of how powerless we are in front of Mother Nature and how we need to respect her.
Through all these realisations that hit me at unexpected times, I have a little superpower- my camera to capture and treasure these moments with me forever. It is a skill I cherish and has been an immense part of my Gold Award journey too.
Starting from my naive experiments with photography in 2007, I've learnt and developed this superpower over the years. Thanks to my elder brother, a professional photographer who uses DSLR cameras with ease, I was able to learn to use cameras and basic equipment rather efficiently. The lockdown was also a great opportunity where I sharpened my skills further through online workshops.
The pictures I've captured for the Gold Award journey are a complete concoction of the world around me, ranging from flowers, insects, food, sports to landscapes, cityscapes, the Milky Way, culture and architecture.
Being an outdoor enthusiast, I have always been motivated to stay fit & work out regularly. The physical recreation section of the award thus became a very delightful cakewalk. I chose 'functional & weight training', starting off at the gym wherein I was given a workout regime to follow.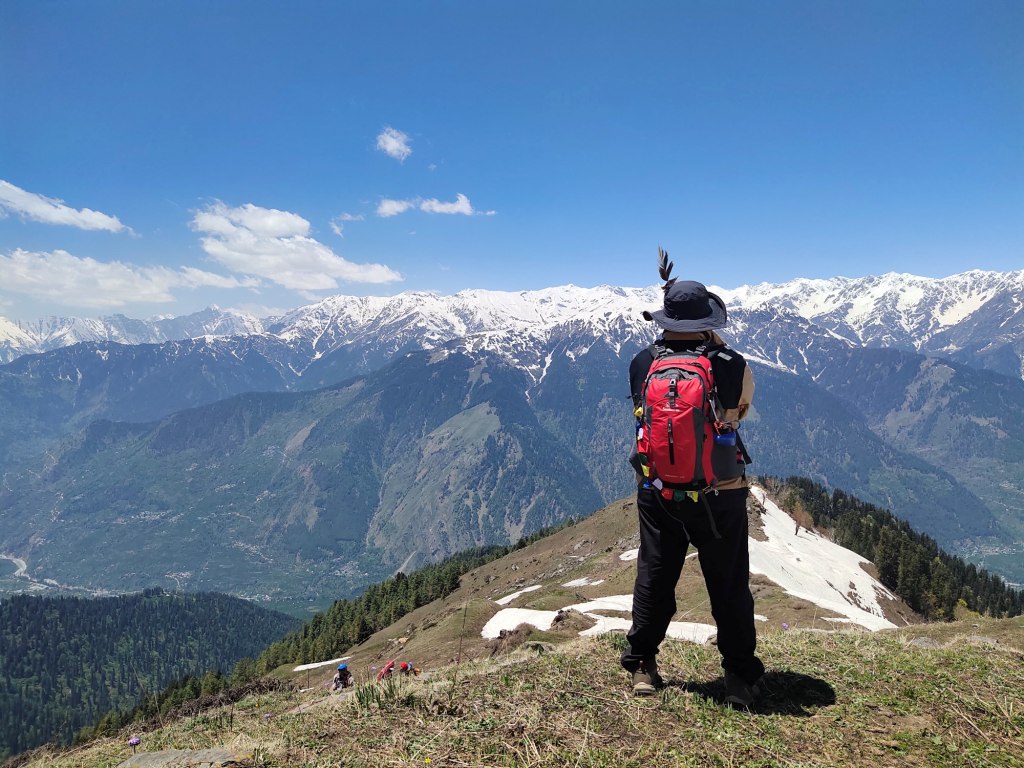 Initially, my workouts were easy so that my body could get into the routine. Once I was in the habit of working out regularly, the frequency & intensity of the workout gradually increased. Eight months into the workout schedule, we all were hit with a rather unexpected pandemic that literally shut down most of the world.
While absorbing this never-seen-before national lockdown, I could feel things were getting pretty stagnant for me- not being able to go out for runs, bicycle rides, gym training or even venture out for basic necessities let alone travelling. That's when I decided I would resume training on my terrace, even if that meant I would have to train without equipment. Soon, the creative 'jugaad' starting flowing in and bricks and weather sheds filled up the gym equipment's place. As the lockdown continued over the months, working out on the terrace became a regular affair.
We humans are very social people and my voluntary service for the award helped me interact with a variety of people. Right from the time I started service in 2013, I had realized that this section has the most potential in terms of empowering an individual to help & provide service to the ones in need, irrespective of how big or small they are. It struck me that life is an echo- it always comes back to you. What you give, you get.
During the initial part of my Gold award journey, in various ways I was able to help kids at the orphanage, senior citizens at old age homes & organizations working for environmental causes. Sadly, due to the global pandemic, all of this came to a standstill- another hurdle in the process.
After seeking guidance from my award leader and the respective authorities, it was concluded that service in form of domestic help & gardening would qualify as voluntary service under the Environmental Programme. And so, during the lockdown, I resumed my service at home by performing domestic activities which included dusting, sweeping & mopping the floor daily.
Thanks to the lockdown, I was able to give time towards gardening and help my grandparents at it. I would help them with pruning, watering, growing vegetables & fruits, making compost out of dried leaves, leftover food & organic waste. Gardening really helped release stress and proved to be a great mood booster for me. I also got to spend a lot of time with my grandparents, which I am truly grateful for.
It is thanks to the lockdown that we have all learnt the importance of even the small things in life. Earlier, I may not have considered it a big deal, but now, this feels like an achievement.
As the great Steve Jobs once said "You can't connect the dots looking forward, you can only connect them looking backwards. So, you have to trust that the dots will somehow connect in your future."
This award did not bring about exponential growth within a day; instead, it forced me to complete those little tasks from every section, on a daily basis- all of this for 18 months straight. Now, looking back at the journey, those little things now look like strides in the direction of consistency! IAYP gave me a platform to follow & develop my passions and helped me excel at them. These months have seen me transform into a better human being as I walked the path to my goals, one step at a time!