Dear Parents,
Although you are free to book your own air or train tickets for our camps which are
exclusive of airfare, we recommend that you book your air tickets through Pugmarks. Here
are all the benefits which you get when you book the tickets through us.
Meet and greet outside the Airport
Web check in is done by Pugmarks
Support of our dedicated volunteers to and fro
Airport check in and Security is handled by our volunteers
Soft and hard copy of the flight tickets are carried by our Volunteers
Volunteers are familiar with Food joints, Wash room locations at the Airport
In case of any changes in the Flight timings etc Pugmarks will provide assistance
Troubleshooting by our volunteers in case of any last minute hassles (ie. Loss of Photo ID, loss of boarding pass etc)
Assistance at the Airport in case of any prohibited items are carried in the Check in luggage or hand bags
Any connected travel is managed by Pugmarks
Get in touch with our team in case you have any further doubts.
Stay outdoors, Stay offline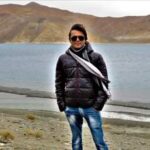 Bhavin brings forth is experience of large scale operations and School excursions to Pugmarks on the table having been part of the travel industry for over 15+ years. A wanderer and a wanna be poet.