Dear Parent,
We understand that you would be very anxious with respect to the safety of your child on camp. In order to help you book with confidence we have outlined our safety practices below. 
Pugmarks Safety Management System
We follow the best in class safety practises on all our camps/activities which include the following;
We have a fully documented safety management system.
Camps/ Tours are led by our trained Volunteers who have been trained by certified instructor in respective field and have years of field experience on pugmarks camps and also undergone our year long Volunteer Training Program ( VTP) which include among other things class room/ online sessions, a field module, a first aid course and a survival camp.
All Adventure activities are conducted by fully qualified local instructors using certified equipment as mandated by the guidelines of Adventure Tour Operators Association of India.
We have a fully documented emergency response plan and all our volunteers are fully briefed about the same.
We use technology to enhance the safety of all campers by providing our volunteers the "Puggygang App". This specially designed app is a checklist driven approach to ensure the implementation of our safety management system.
We are registered as an Adventure Tour Operator under the Adventure Tourism Policy of Government of Maharashtra and we comply with all the guidelines under the same.
We have long term relationships with our associates ( Camp Site owners, activity and transportation suppliers) which ensures that they are responsive to our requirements.
We take out insurance for each and every participant, covering all the activities for each of our camps.
We communicate the risks involved in any camp to our customers and parents before they go on camp. They have an option to opt out in case they are not comfortable with the risk level in any camp.
For high altitude treks, we conduct practice treks to judge the fitness level of the participants before the camp departure. Also on initial few days on arrival at the base camp the participants are closely monitored for their individual acclimatization to the terrain.
A Volunteer to Camper ratio of minimum 1: 10 over and above the Volunteers, at all the campsites, there would be a team of technical instructors to conduct all the activities. There will be a girl / lady volunteer at each camp.
Risk Matrix as per ISO: 21101:2014
However despite the above, you should be aware that any outdoor/ adventure activity carries a degree of risk. These risks can be minimised but can never be fully eliminated.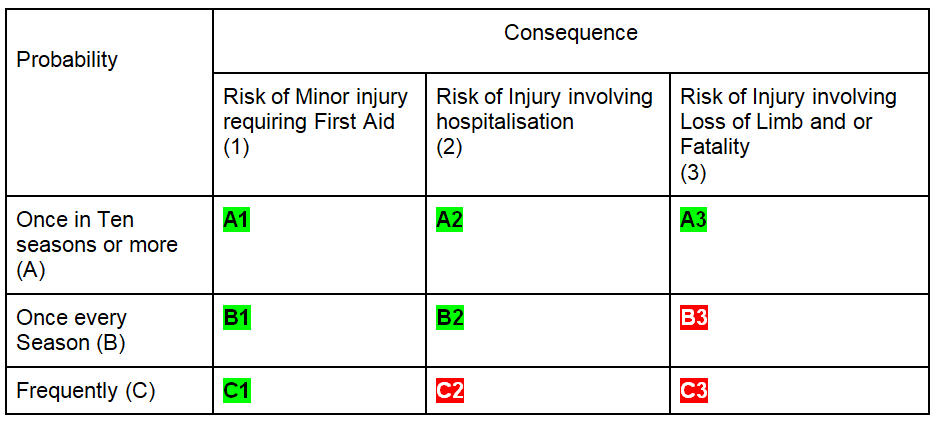 When planning our camps, we consider all the risks marked in Red above as unacceptable risks and we do not conduct any activity or camp which carries such a level of risk.
We consider all the risks marked green as acceptable risks and we ensure that those risks are minimised by our safety practices.
Your Acceptance of a Disclaimer form.
Based upon the above risk matrix, you will be provided a Risk Rating for the camp you select. You should book a camp only if you are comfortable with the same. You will also be expected to sign an electronic/written disclaimer at the time of enrolling your ward on any camp.
Disclaimer:
Dear Sir/Madam,
We request you to read the following disclaimer. In case you/ your parents/legal guardians do not agree with it, please send your views of disagreement by return mail. It is assumed if no reply is received, you have agreed to all content thereof.
Please note: This form is to be filled up by the participant in case he or she is above 18 years of age on the date of the booking, else by a Parent or Legal guardian as may be applicable.
I have been made aware prior to my booking the risks involved in wilderness camping/trekking/walking/outdoor stay/outdoor activities and I have fully understood the same. I have also been made aware of precautions to be taken. I am aware and fully understand that I/ my ward will have to abide by and follow all the terms and conditions and the instructions (in English or Hindi as the case may be), – written and oral – given by the camp organizers/leaders/volunteers at all times during the camp. I am aware and fully understand that I / my ward will have to take care of myself/ himself/herself and my/his/her belongings and be careful and responsible in that regard. In case of any injury, sickness, accident, death or any other casualty or loss of valuable/luggage, I/he/her, my/his/her parents, my guardians, relatives and friends shall not hold the organization, the instructors, any other staff, wholly or partially, either individually or jointly responsible. I am aware that only first aid is available on campsites and in case of any injury or sickness, I/ my ward is ready to take medical treatment from doctor / attendant, if available on campsite and / or from the nearest available medical center/hospital. The expenses for the same and related transportation will be borne by me/my parents/legal guardians.
I have also read and accepted the terms and conditions mentioned on the website at the time of booking.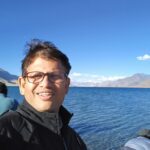 Chinmay Divekar is the owner and director of Pugmarks Eco Tours Private Limited since 2012.. He has done his MMS in Marketing from the Jamnalal Bajaj Institute of Management Studies, Mumbai.. He along with his father, cofounded Nature Trails Resorts, a chain of adventure resorts at weekend destinations around Mumbai. In 2016 he sold Nature Trails Resorts to Sterling Holidays, a subsidiary of Thomas Cook India Limited. He is an Adventure Lover and likes to set up wilderness expeditions. He is passionate about history. He is a member of the Managing Committee of the Adventure Tour Operators of India. Under his leadership, Nature Trails Resorts became the first organisation in India to be certified under the IS 211011:2014 by Bureau of India Standards