'Nothing is more beautiful than the loveliness of the woods before sunrise'
I had read this somewhere, but could only fathom it when I got the opportunity to spend a whole night in the forests of  Tadoba Andhari Tiger Reserve. Sitting on the machan, squeezed between my companions, I readied myself for the unexpected!
Our machan was set overlooking a beautiful lake and was known to be the spot where one could often see the BIG CAT, accordingly we set up camera traps to capture its movements.
As the sky above us grew darker we could see the stars in their full view. With the help of the little knowledge about the stars that we had, we tried to locate planets and constellations.  As we stared at the sky it looked like a dark blue carpet with silver dots placed on it.
Such skies are a rare sight in Mumbai, aren't they?  You don't get to see such untouched skies in our concrete jungles. Do you? It was truly a sight to behold.
Soon it was dinner time, we unpacked our dinner boxes and had a quiet 'starlight dinner'
However, one thing that struck me was that it had been almost three hours and we hadn't spotted any activity by the lakeside, even our camera traps hadn't flashed. But I had enjoyed the beauty of that night to the fullest!
It was then that I realized how naïve I had been by equating the forests with the 'BIG CAT'. To be honest, I had taken up this course only with the expectation of seeing the elusive Tiger.
"But doesn't serenity come to you when you trade Expectations for Acceptance"?
I had spent an entire week in the jungles without having spotted any animal as such. Initially, I was disappointed, but when I gave my perceptions a little twist I was able to appreciate things better.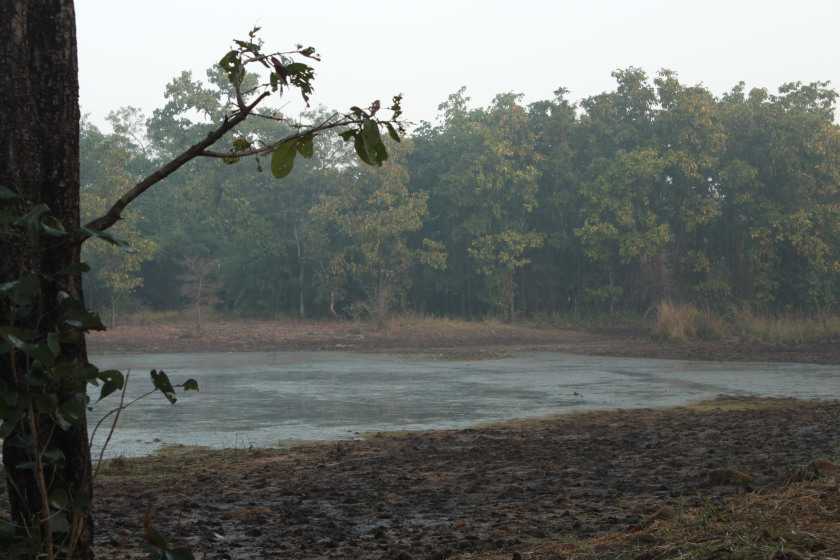 The forest not only shelters the animals, but it flourishes with a variety of flora and fauna.  It has trees which are abundant in diversity and shades of green that no palate can produce! Insects which we usually find creepy silently playing their part in the ecosystem.
A walk in the forest can give you a glimpse of how these little things matter of how beautiful a spooky-looking spider can be. If you stop and look around, you'll see the variety of webs it can spin.
If you follow the butterflies silently you might probably witness their mating. If you look down at the path that you are walking, you'll be astonished at what an architectural marvel an anthill is!
'All this is only possible with a twist in your perception'
If you silently listen to the birds you will notice a particular pattern in their chirping. The way the birds communicate is worth admiring.
Just when I thought the starlight dinner was one of the best experiences, the forest had much more in store for us.
On the next night just 3-4 bushes away from us we heard the killing of a sambar deer, the tiger growling, and the crackling of the deer's bones!  No, I am not exaggerating. This happened for real! All of us were so awestruck that we dint even scream.
This is what the forest is about. It has so much more to it than just the big cats.
It teaches you to appreciate the small things, or rather the beauty of small things…
It is here that you are in awe of the supreme power who created this marvelous nature
How every tiny atom in this universe plays its part in maintaining the balance of this ecosystem and the fact that 'man' is only like a speck of dust in this world as a whole.
All this comes to your notice when you cut off from the 4G connections and spend some time with nature, you will surely find a better connection.
Otherwise where else will you get to have dinner under a sky full of stars or wake up to the chirping of birds?