Dear Class X students
After March 22nd 2020, India was forced to coop up indoors and your school was forced to shut down due to the pandemic. 
CBSE and ICSE board cancelled some papers of the Class  X board examinations. I am sure you all must have felt a great deal of uncertainty.
This is the last year of your school life. This is the year in which you were looking forward to spending some amazing time with your batchmates, loitering in the school corridor, campaigning for the student council elections, participating in the inter house sports, singing the school prayer and most of all the Farewell Party. 
Instead you got stuck with  Zoom Meetings and Google Classrooms.
Well this year CBSE has delayed the examinations of Class X  to May! And your results will be out on the 15th of July. 
It is now certain that you will get to enjoy your vacations from the 7th of June to the 15th of July 2021. The other good news is that your syllabus has been reduced by 30%. For some of you, your vacations may start even earlier viz. (29th of May)
So for Summer 2021, we have planned a special extended season for you.
Round up your gang and join us in a National Park to enjoy the great outdoors!
Enjoy a freshly brewed cup of Coffee after an exhilarating 15 Kilometer White Water Rafting Run in Rishikesh!
Enjoy the Snow in Manali!
Trust me meeting your batchmates in camp is way better than chatting with them online. And a loud belly hugging Guffaw over the campfire is so much more fun than a "Hahaha" on an online chat.

Summer Camps (CBSE/ICSE X) Special Schedule 2021 Announced!
Camps to exciting destinations like Goa, Khandala, Ladakh and many more.
| | | |
| --- | --- | --- |
| | | |
| Explore the world by not just seeing it on the Internet or reading about it in Books, Experience the beautiful outdoors by going to "The Explorers" camps with us, It's the entry-level camp where if you are camping with us for the first or second time. Best way to make new friends while you enjoy a whole lot of interesting Team bonding activities which are one of the highlights of these programs. | A step up from the Explorers, a higher form of Adventure & Wildlife with "Experiential Camps" Curated programs which highlight some of our far away, wildest camps & activities. A healthy mix of activities keeps the campers busy most of the day. | Targeted for our campers who have a "Special Interest" to achieve or experience specific goals in mind. One-of-a-kind activities or remote destinations is a highlight of this category. Only rest-time is when you sleep, otherwise outdoors await! |
Basic Fee Ex- Destination

Discounts for 1st 10 bookings

Dharamshala Diaries THE EXPLORERS5-11 June 12-18 June 20-26 June 24-30 June 29 June – 5 July 12-18 July

A 7 day Pahadi experience in the mountains of Dharamshala amidst magnificent views. Explore the forests and mountains as you trek up and follow the sky. Wake up to scenic mornings and close your days with a campfire
Download PDF Itinerary


Khandala Ghats to Kolad Rafts SPECIAL INTEREST CAMPS08-11 June 15-18 June 22-25 June 29 June – 02 July 06-09 July 13-16 July

Enjoy White Water Rafting Experience,

International Level Theme Park "Imagica",

Karla Caves at Lonavala/Khandala and

Adventure Activities many more Games & Activities

Download PDF Itinerary

The Bay Watchers of Goa EXPERIENTIAL CAMPS07-10 June 21-24 June 28 June – 01 July

Enjoy Trek, Cycling, Kayaking,
Stand Up Paddle, Snorkelling,
Raft-Building and many other water sports,
team games at Goa BeachDownload PDF Itinerary

Manali Masti THE EXPLORERS 08-15 June

Adventure in the lap of Himalayas. Experience camping and trekking along with the thrill of rappelling and river crossing. Snow Point visit along with Manali Sightseeing

Rangers of Kumaon SPECIAL INTEREESR

Camp and nature-based activities including guided bird watching in the forest trails, river hike, bicycling, village walks and interaction.

Service project: Wire fencing around the village farms.

Cloud 9 – Mukteshwar EXPERIENTIAL CAMPS 09-16 June 16-23 June

Cool Mountain Camp at 8000ft

Treks, Adventure, Archery, Basketball, Treasure Hunt, Jungle Stay, and Campfire.

Experience almost 200ft Rappelling!!!
Nainital sightseeing along with ropeway

Kareri Lake Trek EXPERIENTIAL CAMPS 04-11 June

A trek up to experience the majestic beauty of Kareri Lake and the scenic beauty around.

Hamta Snow Valley EXPERIENTIAL CAMPS 05-12 June 12-19 June 20-27 June 24 June – 01 July 29 June – 6 July

The unrivalled beauty of Manali Camp; Hamta region, which is one of the most prominent outdoors get-a-way locations, has all the ingredients that could give you the experience of a lifetime. The challenge of the daunting mountains may unnerve you, but remember you will come out with an experience of a lifetime. Experiences that will enchant you, enthral you, and captivate you forever!

Kayak, Beach and Sea SPECIAL INTEREST CAMPS 11-15 June 18-22 June 25-29 June

Certified Sea Kayaking Level 1 Course

Stand Up Paddle boarding (SUP)

Snorkelling

Beach Stay & Campfire

Best of Leh with Pugmarks SPECIAL INTEREST CAMPS 15-21 June

Rich in culture, scenery and history, Ladakh is a treasure trove of wonders hidden away in a remote part of the world. Visit Magnetic Hill & Gurudwara Patthar Sahib, Confluence of Zanskar, Indus River, Hall of Fame Museum. Enjoy Nubra Valley via the World's Highest Motorable road, visit to the White Sand Dunes at Hunder, Camel Ride,

Diskit Monastery & Pangong Lake
Download PDF Itinerary

Naag Sour Expedition SPECIAL INTEREST CAMPS 09-18 June 18-27 June 02-11 July

Get ready for the Himalayas, Trek to Hamta Hills, Kharimindiyari, Splendid view of Hanuman Tibba at Raurikhauri, and amazing view at Naag Sour.
Click on the camp name to visit the Website page.
Camp fees mentioned are Ex Destination charges.
To Book Flight tickets for any destination please contact us.
To book your camp or for any other details.
Email us: 

[email protected]

Call us on +91 9819983870
Visit our website: www.pugmarks123.com
Happy Camping!
Pugmarks
Discover your planet! Discover Yourself!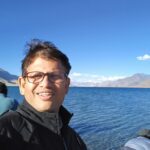 Chinmay Divekar is the owner and director of Pugmarks Eco Tours Private Limited since 2012.. He has done his MMS in Marketing from the Jamnalal Bajaj Institute of Management Studies, Mumbai.. He along with his father, cofounded Nature Trails Resorts, a chain of adventure resorts at weekend destinations around Mumbai. In 2016 he sold Nature Trails Resorts to Sterling Holidays, a subsidiary of Thomas Cook India Limited. He is an Adventure Lover and likes to set up wilderness expeditions. He is passionate about history. He is a member of the Managing Committee of the Adventure Tour Operators of India. Under his leadership, Nature Trails Resorts became the first organisation in India to be certified under the IS 211011:2014 by Bureau of India Standards