Rafting over the holy water of Ganges definitely tops the bucket list of every adventure enthusiast. Ganga rafting has personally been one of the most memorable experiences for me where last time I had the opportunity to experience the most enthralling experience of my life. It was late evening and the sun had left its abode in the sky. The sun's colour coincided with that of the holy river water. Galvanic Grey. Shining and sparking its way. The water was calm and still which exhibited no signs of ensuing menace.
Birds were gliding through the bundles of clouds preconizing their mates. We huddled closer to him as the guide instructed us and got us acquainted with the basics of rafting. The calm river and the fervour to get into the rafts were resilient enough to distract us from the instructions he gave. We jumped onto the rafts with much eagerness. Phew. The paddles were longer than I was.
The kind of strength needed to push the paddles back and forth with respect to the currents was inexplicable and sent chills down my spine. Gradually, as the currents flew, we drifted and hopped onto the river. Our guide informed us that we were nearing the rapids and here we would need to paddle harder. My excitement and enthusiasm for the new adventure knew no bounds. I could not really stop adoring the flowing white water and dipped my fingers into the icy water. Our raft was rocking and hovering through the waves and gigantic currents. My hair had come out of the rubber band and was hanging loose, sticking to my face. I was ecstatic. We all were. I couldn't have felt more at peace in my life than at that time. I basked in the cool evening breeze. I had never imagined that I would take a dip in the holy Ganges this way. This thrill of mere few minutes felt like a lifetime. Each of us had been clutched by the same vehemence. We drove back to our camps and sat by the bonfire. I was overwhelmed. The moon glistered brightly in the clement sky convincing that the day was over followed by a new bright tomorrow.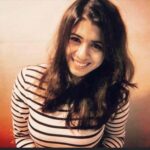 I am a law student and have always been an avid reader! Writing gets me going, every single day and to make sense of the thoughts in my head, to bring out parts of myself into something tangible is in itself extremely satisfying!